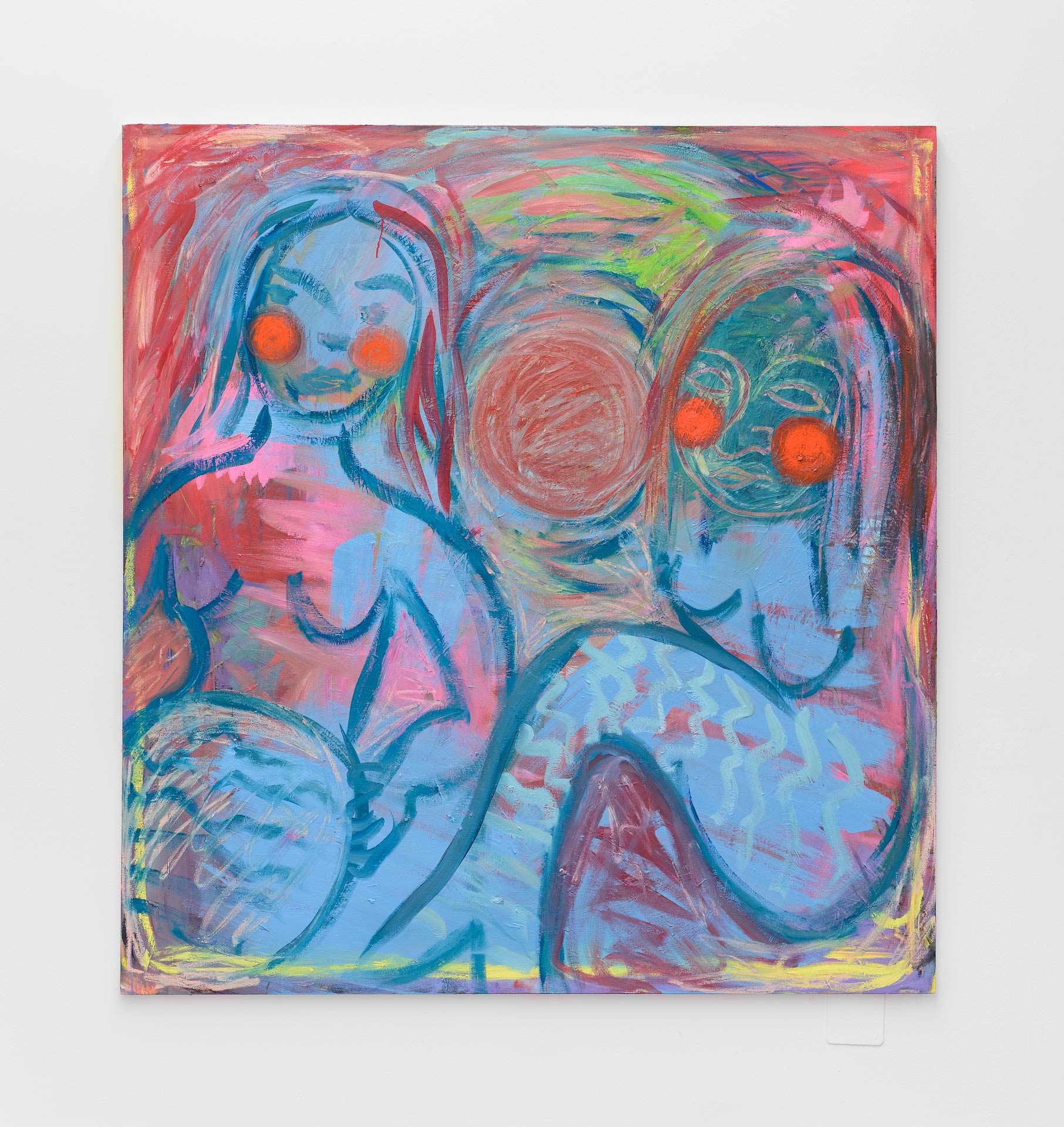 The shame of the sirens, 2019 - from the exhibition Lucy Stein, Thesmophoria
Though real travel is difficult at the time of writing, Stein's creative journeys are currently on view in Italy in two different locations. The first is Milan, where Zurich-based Galerie Gregor Staiger is presenting an exhibition of the British artist's recent paintings, Lucy Stein, Thesmophoria, from 30 June to 29 July. If you can't make it, never fear: a more permanent display of some of Stein's recent works in ceramic tile and on paper was recently installed at Le Sirenuse in Positano.
Also on view at Le Sirenuse, on the staircase leading down from Aldo's to the La Sponda restaurant, are a series of mermaid-themed ink drawings by Stein. Some of these motifs flow back into Aldo's, appearing in the form of jaunty vignettes on the bar-bistrot's printed menu. Stein's mermaids pose, all eyes open, between sun and moon, flirt with and tease a sly octopus, gaze, champagne glass in hand, at an androgynous moon, canoodle in the waves beneath a disapproving (or possibly jealous?) sun.
Trained at the Glasgow School of Art and de Ateliers in Amsterdam, Stein has been exhibiting solo and in group shows for over ten years. I talked to her long-distance as she was working in her studio in Newlyn, Cornwall, in between nursing her youngest child, Sylvia, who was born earlier this year. My first question had to be: why mermaids?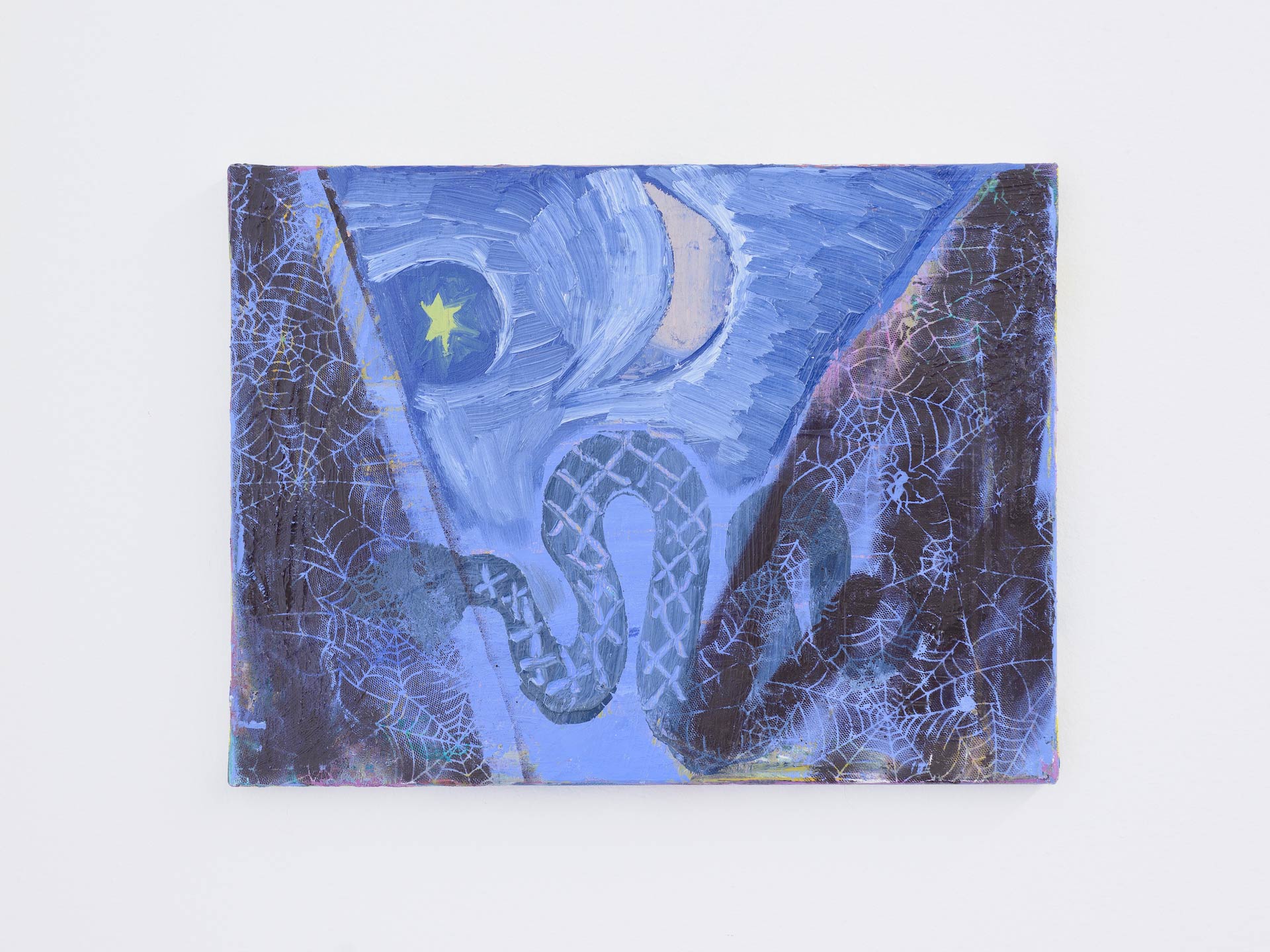 Crescent moon over pz, 2019 - from the exhibition Lucy Stein, Thesmophoria 
"For me they're a really rich metaphor", Stein replied. "There's a feminist sense of what has been suppressed and subdued throughout cultural history, and all the things that go with that, like intuition, empathy, care. It's complicated, but it's something to do with the connection between the thing that has been suppressed and this oceanic feeling of boundlessness".
Those who grew up with the Disney version of Hans Christian Andersen's The Little Mermaid are used to the sanitised, safe version of the myth, but the British artist believes that "mermaids still have enormous power… I think for women the siren is still a very strong image to connect with". For Stein, the mermaid is more than a subject – in her nature, she mirrors the artist's own creative "battle… between the lyrical and the sweet, between the saccharine and the very rough, raw, angsty and ugly. Mermaids are always connected with thoughts of death, and the sea as a frightening place… of the unconscious rolling up from the depths". Stein reveals that she has "a personal connection with this, to do with deaths in my family that happened in the sea or near the sea when I was young… so I've always felt this very strong need to get to the bottom of what it means to be making art from this specific place… being on the edge of something, plunging into it".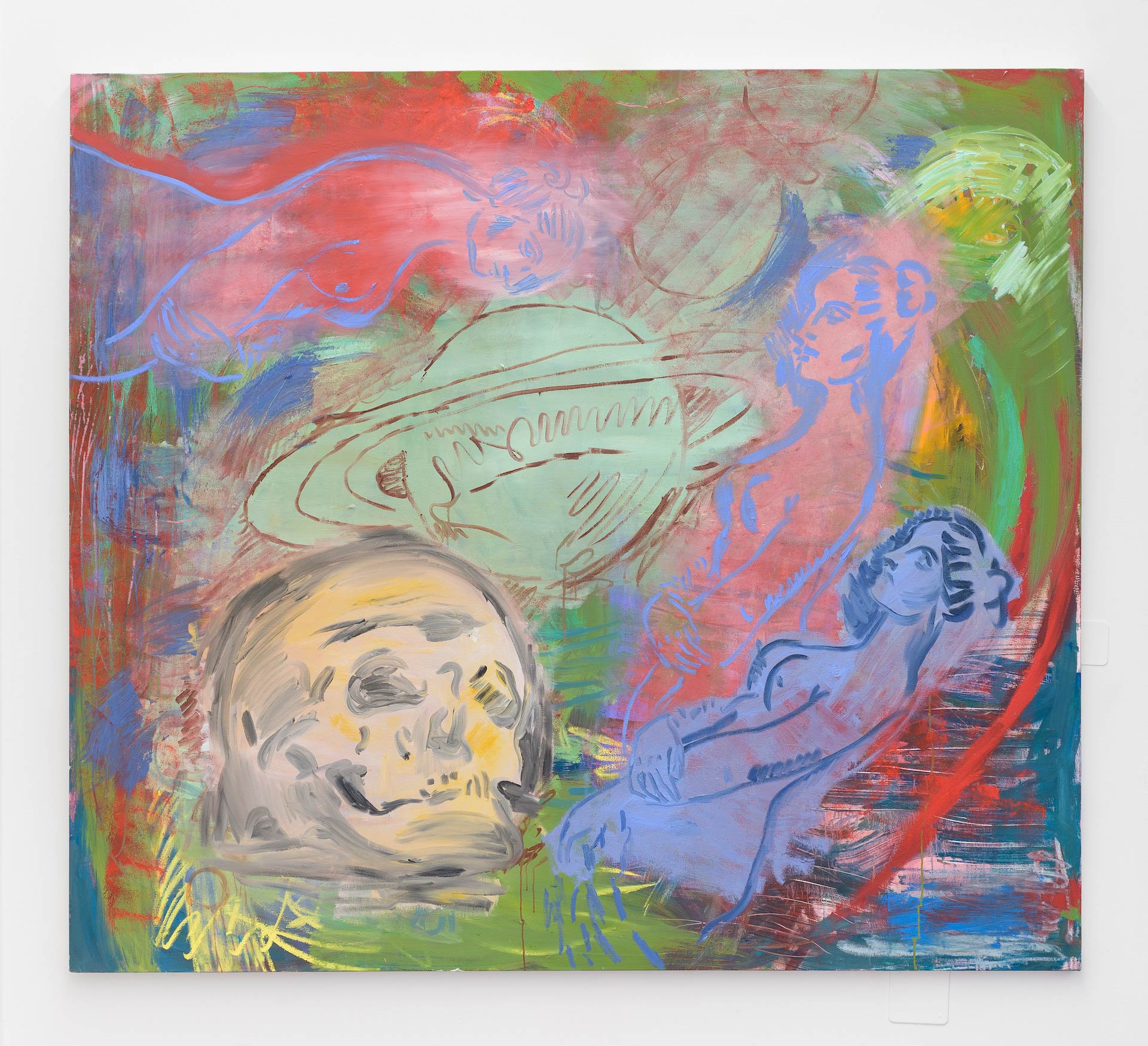 Saturnine, 2019 - from the exhibition Lucy Stein, Thesmophoria
It's that same artistic search for a balance of raw and sweet, turbulent and tranquil, that led Stein into working with ceramic tiles, a medium she's been exploring on and off for the past decade. Made in Stoke in Trent, the unglazed 'biscuit' tiles the artist paints on are fired and glazed with the help of two Cornish ceramicists. "My work is always a workout in one way or another – even the drawings. I always press very hard, and I use a lot of oil stick and charcoal. It can be quite aggressive, quite physical. And this new way of working – it's still physical, but it's more like swimming than punching". Stein loves, she says, the way that the process of glazing and firing in the kiln, "is a transfiguration through fire… a sketch that might be disturbing on canvas gets kind of equalised when it's fired in a kiln on a glazed ceramic tile, it transforms it into something that has all that psychic energy embedded inside it. It becomes almost timeless – very close and very far away at the same time".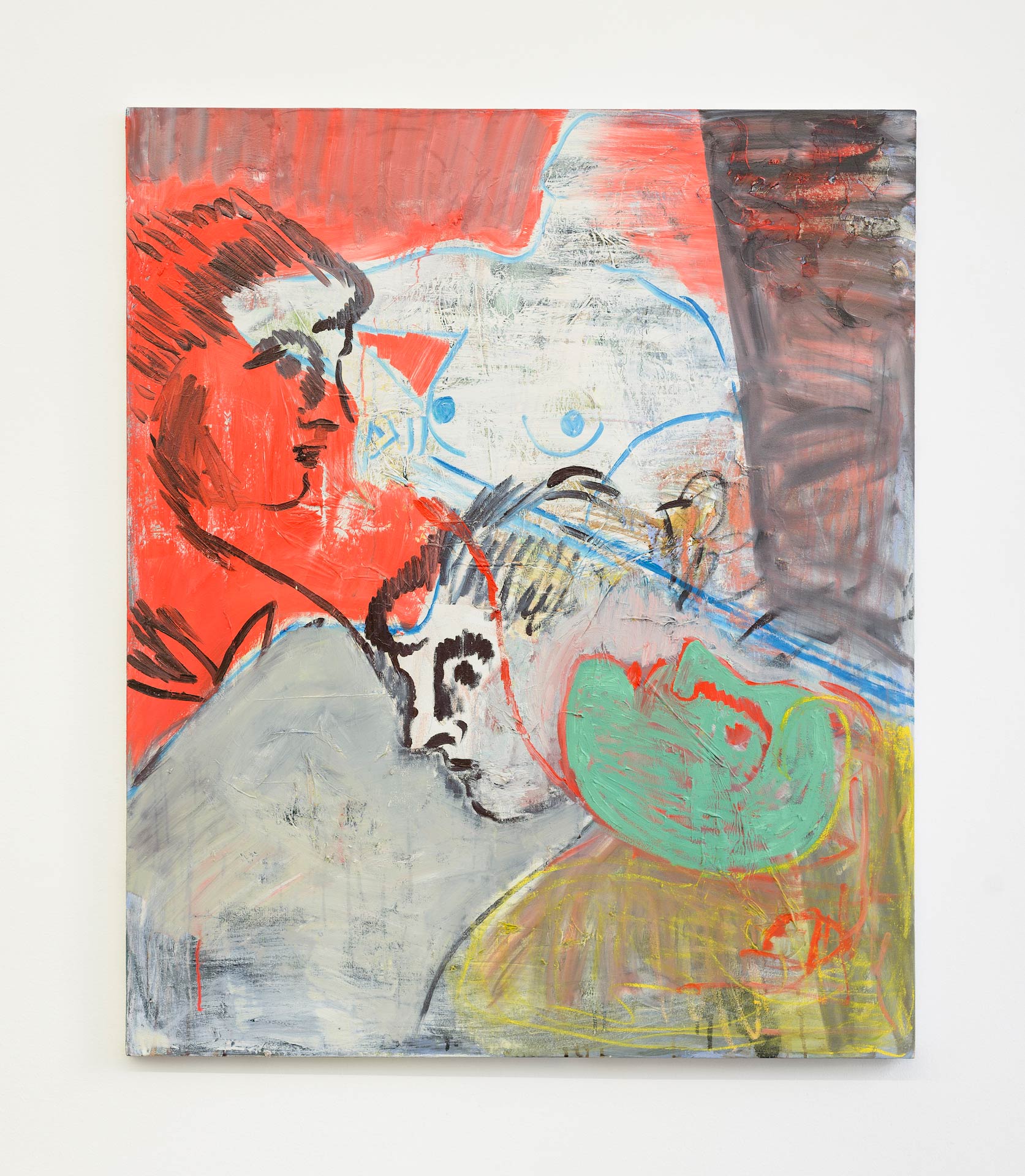 Sylvia, 2019 - from the exhibition Lucy Stein, Thesmophoria
Lucy feels a kinship with Rita Ackermann, an artist she admires who is also represented in Le Sirenuse's growing site-specific contemporary art collection, in the decisive strokes and jabs of her brush, crayon, stick or pen, but she is also inspired by the way Ackermann's work "changes all the time – and that's really not very popular in the art world today". The shifts in her own work, Stein declares, "happen in response to life changes, emotional shifts. My work has to have a power to it to keep me interested, some kind of numinous power. I can make things that look alright, that are kind of 'copies' of my own work, but unless they have the power, it's not interesting to anyone, and the only way to reach that power is to keep changing, to extract it from myself and put it into the work". Asked to give an example, she cites a little ruefully "a painting I've been working on here in my studio… and I realised just yesterday that it doesn't have the power. It's got something, but it doesn't have the force". But failing sometimes is, she believes, inevitable: "the challenge with my work is that I never set out knowing where the power is going to be found… it's a bit like psychoanalysis, I have to unearth it, excavate it, and then give it back, somehow. It's quite an emotional journey".
Is Stein's drawing, I wonder aloud – and I'm thinking of those arch mermaid sketches, playful with an undertow of menace – a way to release the tension of this process? "Drawing is the backbone of my work", the artist replies, "and I suppose there's something automatic about it, so a lot of the time it tells me what I need to be making work about, and how I need to be making it. I tend to get these bursts or gushes of inspiration, and the ceramic work and drawings that are now on display in Le Sirenuse, and on the Aldo's Bar menu, were the beginning of a very big gush. In this case I was working on some oil paintings and getting very frustrated. Working on the tiles and the drawings really helped to free me up. Oil paints can make you quite tense!"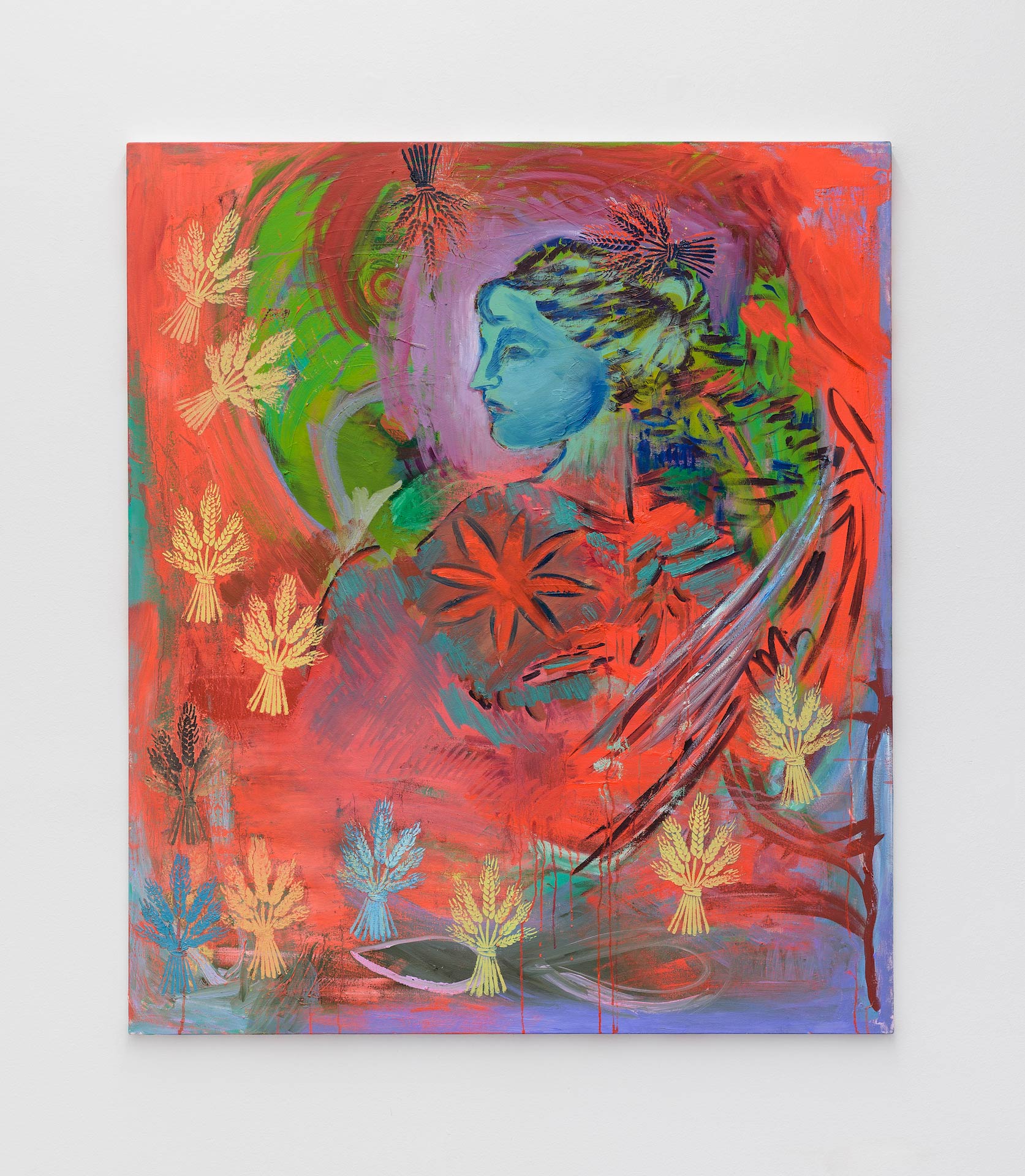 Demeter (after Eileen Agar), 2019 - from the exhibition Lucy Stein, Thesmophoria
Many of the works on display in the Milan show centre on the myth of the Greek harvest goddess Demeter and her daughter Persephone, who was abducted by Hades and taken to the underworld. He was forced by Zeus to return the girl – but tricked her into consuming some pomegranate seeds, meaning that she was condemned to spend four (or in some versions, six) months a year by Hades' side as Queen of the Underworld. The myth embeds the natural cycle of autumn and winter dieback and spring rebirth, and has become important for Stein because "a lot of my previous work was all about going deep into my own interiority, whereas in the Persephone myth the impact is so world-changing, creating the seasons – it forces me to look outwards. Then there's the idea of the underworld, which is similar to the sea, of being pulled into this place that is churning and dangerous, but necessary in order to deal with everything else. Also, the way the myth relates to what we might call a bipolar outlook, or a neural diversity – which is there in the creative process as well. The connection between creativity and neuro-diversity has always interested me".
"I think when my work is at its best", Stein concludes, "it uses signifiers but puts some sort of lived experience into them, so they feel like they're from now and from mythology".
Presented by Galerie Gregor Staiger, Lucy Stein, Thesmophoria, runs at Via Gioacchino Rossini 3, Milan, until 29 July. Lucy Stein will be giving a reading at the gallery on the evening of July 9 entitled Bride of Quiet. 
Aldo's Cocktail Bar & Seafood Grill is open daily throughout the summer season.
Le Sirenuse Newsletter
Stay up to date
Sign up to our newsletter for regular updates on Amalfi Coast stories, events, recipes and glorious sunsets