First published in Vienna in 1937 under the pseudonym of 'Kurban Said', this Caucasian Romeo and Juliet romance tells the story of the love between Ali, an Azerbaijani Muslim boy, and Nino, a Georgian Christian princess, in the oil-boom city of Baku, on the shores of Caspian Sea, in the turbulent years that preceded the Soviet invasion of Azerbaijan in 1920.
Largely forgotten, the novel was rediscovered at the end of the 1960s and translated first into English, then into more than twenty other languages. Reviewing the first US edition in the New York Times in 1971, Christopher Lehmann-Haupt enthused that "one feels as if one has dug up buried treasure".
Various failed attempts have been made to turn the stirring and ultimately tragic tale of inter-ethnic love into a feature film. Finally British director Asif Kapadia – director of recent Amy Winehouse documentary Amy – has brought it to the screen, working from an adaptation by Dangerous Liaisons scriptwriter Christopher Hampton. The film, which is executive produced by magazine publisher and charitable foundation head Leyla Aliyeva – daughter of Azerbaijani president Ilham Aliyev – will world premiere at the 2016 Sundance Film Festival (January 21-31).
However, few of those who attend the movie's gala screening in Park City, Utah, are likely to realise that Ali and Nino has a Positano connection.
In 2005, US writer Tom Reiss published a book, The Orientalist, in which he made a convincing case for the true identity of the author hiding behind the invented name of Kurban Said. He was, Reiss claimed, Lev Nussimbaum, an Azeri-raised Jewish writer and adventurer whose colourful, globetrotting life took him from Baku to Persia, Georgia, Turkey, Berlin, Vienna, New York… and Positano, where he lived from the spring of 1938 until his death on 27 August 1942, aged just 37.
Lev's father was a Georgian Jew who invested in the oil trade in Baku, where Lev went to school; his Belorussian Jewish mother, who may have been a Communist revolutionary sympathiser, committed suicide when he was just five. He went to school in the multi-cultural Baku of the years at the end of the city's oil boom, when the city that produced almost half of the world's crude oil was briefly, between September 1918 and the Soviet invasion of April 1920, the capital of the world's first secular, democratic Muslim republic.
This is the unstable but cosmopolitan world that forms the background of Ali and Nino. It forged Nussimbaum's character too – indeed, in some strange way he internalised the multiple ethnicities of the city he grew up in, adopting a variety of personas, and names, in the course of his short life. Most of the articles, essays and books he wrote in German after launching a prolific writing career in Berlin in 1929 were signed Essad Bey. Nussimbaum forged a whole invented backstory for this high-born Muslim avatar of himself, turning his Ashkenazi Jewish father into an Islamic prince in exile.
It was as Essad Bey, or 'the Muslim', that Nussimbaum was known during his exile in Positano, where he had fled – paradoxically – to escape the ever more oppressive anti-semitic climate of Vienna. Cut off, due to Hitler's racial laws, from the royalties which would have guaranteed him a decent living, Nussimbaum lived off postal handouts from a handful of literary benefactors and the generosity of many positanesi, who in these years before tourism transformed the town were themselves well acquainted with hardship.  In the guest book of the Pensione San Matteo – a guesthouse that was a haven for refugee Jews, many of them artists, in the 1930s – Reiss even came across a satirical poem about how 'the Muslim' owed everyone money.
Nussimbaum's penury, and his constant fear of being unmasked as a Jew by Mussolini's secret police, was made worse by the illness that began to afflict him around 1938 and would eventually claim his life – Buerger's Disease, an extremely painful progressive clotting of the veins and arteries, prevalent among heavy smokers, that causes hands and feet to turn gangrenous.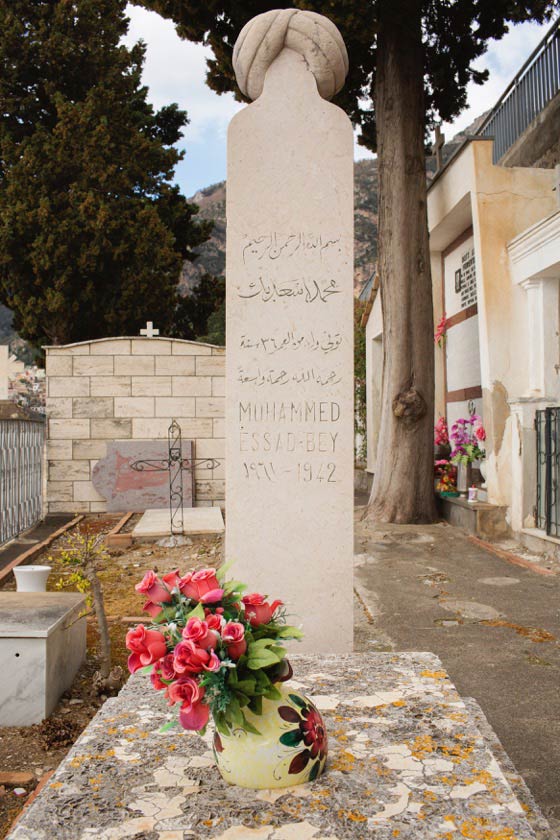 He was buried in a simple tomb in Positano's scenic cemetery, which stands high above the town, supposedly with his feet pointing towards Mecca, as would befit a devout Muslim. In his essay 'Positano', published in Harper's Bazaar in 1953, John Steinbeck tells the story of how the locals later discovered that "he had been buried 28 degrees off course. This was outrageous to a seafaring town. The whole population gathered, dug the Moslem up, put him on course and covered him up again".

The only problem with Steinbeck's lovely anecdote is that there's no evidence that it actually happened. Still, as Italians say, se non è vero, è ben trovato ("if it's not true, at least it was well made-up"). And a little embroidery seems appropriate for a man like Lev Nussimbaum, whose whole life was an exercise in self-invention.
Le Sirenuse Newsletter
Stay up to date
Sign up to our newsletter for regular updates on Amalfi Coast stories, events, recipes and glorious sunsets