Before Creed's biggest show to date, a 2014 London Hayward Gallery retrospective provocatively entitled 'What's the point of it?', a curator felt the need to append the label 'ART WORK!' to a crumpled sheet of A4 paper – a work from 1994 – just in case some misguided cleaner decided to tidy it away.
There's a desperate humour and poignancy in Creed's art, which seems designed not so much to épater les bourgeois as to ennoble the detritus of the present and to subject to scrutiny subjects – like defecation or broccoli – which historically have either been considered unsuitable topics for art, or employed as a shock-tactic. Creed takes neither approach. His curiosity seems to know no bounds – Italians would call him a tuttologo, an 'everything-ologist' – and he seems to distrust the whole idea of suitability. If nothing is off limits for art, then our attention shifts, necessarily, from the aesthetic qualities of the work to its mere existence. The things he creates or manipulates may be impervious to interpretation, but they are also impossible to ignore.
At the same time, there's a yearning in the artist's pieces for the reassurances of classification – each of his works is identified by a number, one greater than the previous, as if they were a string of invoices. He's also obsessed with language. In 1999 he made a neon sign – Work no. 203 – that ran the whole length of the entablature of the Clapton Portico in Hackney, East London. In glowing white capitals, it read 'EVERYTHING IS GOING TO BE ALRIGHT'.
Since then, Creed has created several more textual works in neon. The latest was commissioned by Antonio and Carla Sersale of Le Sirenuse in Positano for the ongoing Artists at Le Sirenuse programme curated by Silka-Rittson Thomas. Installed to hang from the ceiling of Le Sirenuse's historic bar, it consists of two superimposed neon strips bearing the words DON'T WORRY in multi-coloured capital letters.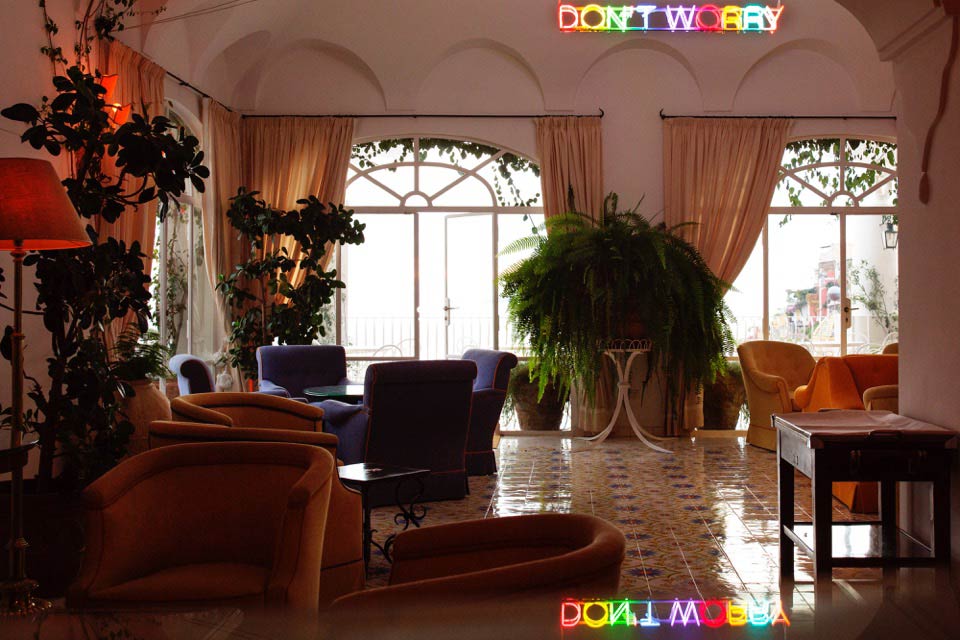 Like many of the British artist's works, it's the latest version of an idea that Creed has been circling for a number of years, since its first appearance in 2000 as a red neon sign with the two words arranged at right angles on the walls of a room in the Chelsea & Westminster Hospital. Its effect is well described by another Martin, art critic Gayford, who has written of a previous avatar of Creed's text: "His works often induce mild unease while appearing to reassure... "Don't Worry", has the effect of Sgt Jones's panic-stricken cry of "Don't Panic!" in Dad's Army. You start worrying about why you shouldn't worry".
In Creed's Le Sirenuse installation, some would argue that the dark backwash of the cheery message is enhanced by its double nature. This is the first time that Creed has made a neon in which a phrase is written twice, on superimposed strips that are just far enough apart to induce a giddy 3D effect when both are illuminated (they can also be lit separately).
For other viewers, however, Creed's work simply means what it says: we are in a lovely place, far from the cares of the world, and it's cocktail time. The artist himself, one suspects, would be happy with both reactions. "My art", he has said, "is 50% about what I make and 50% about what other people make of it".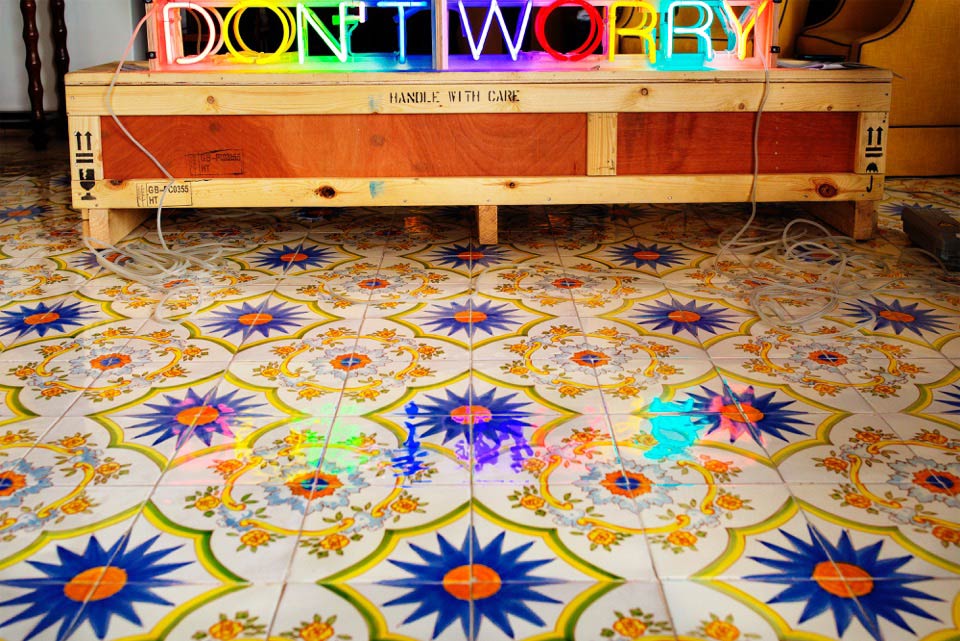 The British artist is the focus of two major summer 2016 events on opposite sides of the Atlantic. His biggest neon to date, Understanding, will be on view in New York's Brooklyn Bridge Park from May 4 until October 23. Commissioned by the Public Art Fund, the work consists of that single word, spelled out in ten-foot-high letters mounted on a 50-foot-long T-bar that revolves at varying speeds. Meanwhile, in the English West Country, Hauser + Wirth Somerset is hosting a new Martin Creed solo show (May 21 to September 11) that will take over the entire gallery, inside and out, based partly on the voice recordings – from to-do list to universal musings – that the artist has been making for several years.
www.martincreed.com
www.publicartfund.org
www.hauserwirthsomerset.com
Le Sirenuse Newsletter
Stay up to date
Sign up to our newsletter for regular updates on Amalfi Coast stories, events, recipes and glorious sunsets