The good news is that these places still exist. Especially on the Amalfi Coast, where new construction is all but impossible, there's pride and value in maintaining and restoring what's already there. So if you come hoping to find that charming little beach shack your parents or grandparents remember from their honeymoon – well, you may just be lucky.
Of course, standards can rise and fall, and places can change hands. That's why, in this latest instalment of the Le Sirenuse Guide to Positano and the Amalfi Coast, we have decided to list (from west to east) some of the beach or sea-view drinking and dining spots we love. Most are evergreen classics, but we figured it was worth flagging them up anyway for those new to the area – also because not all the classic venues from the dolce vita years have turned out to be evergreen.
La Fontelina, Capri
see main photo
You know that thing about simplicity being the ultimate luxury? This unpretentious beach club nails it. Spectacularly located in a cove overlooking Capri's famous Faraglioni islets, La Fontelina is all about sun worship, the lapping of the waves, and fresh salads, mozzarella, pasta and seafood, cooked with the minimum of fuss. For us, it's the last word in relaxed barefoot chic. Some say you can get there by ferry from Sorrento and bus to the Piazzetta, followed by a long walk in the midday sun. They are mad. Take a boat.
+39 081 8370845
Lo Scoglio, Nerano
Lunch at Lo Scoglio is an Amalfi Coast ritual – and rightly so. The De Simone family, who have run this waterside trattoria since 1958, greet both VIPs and we less exalted mortals with the same unaffected simpatia. On a jetty above the waves, locals and glocals – many of whom have boated in from Positano – tuck into that Scoglio classic, spaghetti con le zucchine. It's delicious – but for us it's the array of vegetable antipasti from the family farm that is the true revelation.
+39 081 8081026
Maria Grazia, Nerano
The original Nerano trattoria was founded by nonna Maria Grazia at the dawn of the 20th century as a simple inn for hungry fishermen. It was here, in 1952, that the pasta classic spaghetti alla Nerano (with zucchine and cheese) was invented by Maria Grazia's daughter Rosa and her friend Prince 'Pupetto' di Sirignano. Tables occupy a wooden terrace above the pebbly beach, which (like the restaurant itself) is a charmingly local affair, far from the glamour spots of the Amalfi Coast movida. The percoche (local peaches) in white wine make for the perfect prelude to a siesta on the boat trip back to Positano.
www.ristorantemariagrazia.com
+39 081 8081011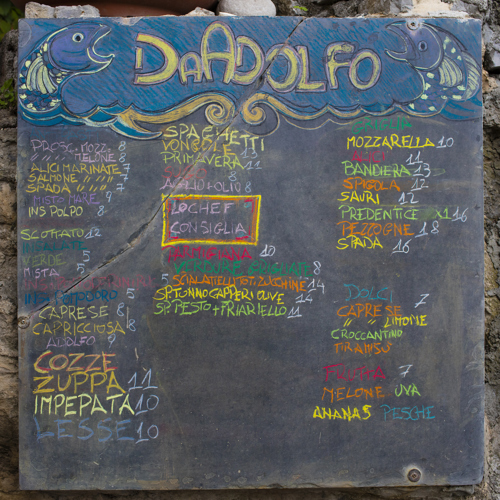 Da Adolfo, Positano
Follow the red fish. From Positano's quay a boat with a pesce rosso on its mast makes the ten-minute journey to pebbly Laurito cove, where gruff owner Sergio (but he's a teddy bear inside) presides over the beach-shack trattoria his dad set up. The menu is tried, tested and simply perfect: grilled mozzarella on lemon leaves and spaghetti with clams are just a few of its many delights. Touristy? Maybe, but positanesi come here too, and they take quality seriously (check out the wine bottles propped beneath the cliff after consumption – Sassicaia 1999, anyone?).
+39 089 875022
Cafe Mirante, Praiano
On the path down to Gavitella beach, this friendly, breezy bar has amazing sunset views. May 2021 saw the introduction of a snack menu based on produce from owner Ciro Rispoli's own garden and offerings from small local producers like mozzarella magician Gargiulo. But the drinks list remains the bar's bedrock. Among the cocktails is Ciro's speciality Lemon Zest, a spicy number (and we mean spicy) made from vodka infused with homegrown chilli peppers, lemon granita and the zest of an iced lemon.
+39 366 171 8593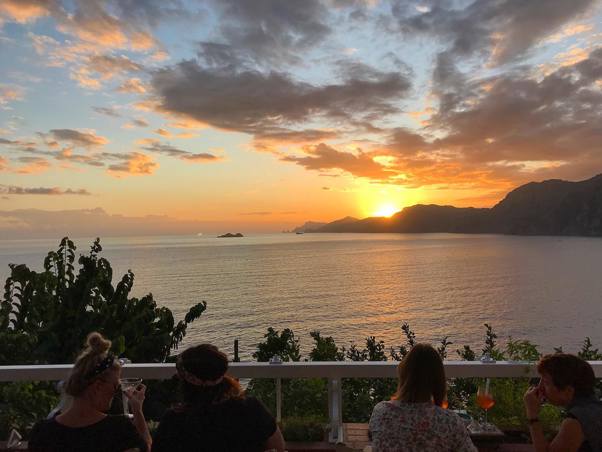 La Tonnarella, Conca dei Marini
Plastic chairs! Servers who don't always smile when they're having a hard day! Who cares? Stressarsi humanum est, and we love this classic beach trattoria out of a tiny pink house sheltering at the foot of a cliff in a rocky cove a mile or so east of the Grotta dello Smeraldo sea-cave. As with so many of these waterside lunch spots, a boat (your own, or skippered) is really the only way to arrive. Our advice is to go with what chef Angelo recommends that day, as the cuisine is strictly seasonal, and the fish arrives fresh each morning.
www.ristorantelatonnarella.com
+39 089 831939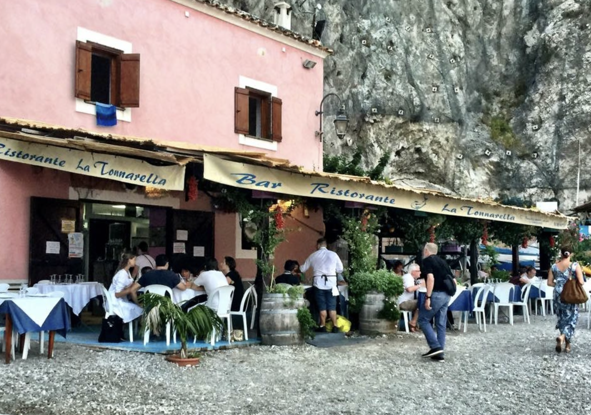 Lido Azzurro, Amalfi
This lively seafood restaurant with its cute outside terrace on Amalfi's fishing port wharf gets big kudos from other chefs like our very own Gennaro Russo, who is a regular on his days off. There's assured technique behind the simple touch of chef-owner Antonio Pisani, a.k.a. 'Bijoux', who uses straight-off-the-boat fish in a range of delicious dishes like shrimps and rocket, or spaghetti with clams. Closed Monday.
+39 089 871384
Acqua Pazza, Cetara
It's at the quieter eastern edge of the Amalfi Coast, an hour's drive east of Positano. But a meal at this insider restaurant down by the harbour in the authentic, untouristed fishing village of Cetara is a must. Who cares if the chef often rolls up for dinner after the first guests have arrived? State calmi, and enjoy one of the Coast's great seafood feasts (try the spaghetti in colatura di alici anchovy oil, a local speciality). Liquid refreshment centres on a good selection of regional wines. In 2016, owners Gennaro and Gennaro opened a second waterside 'Acqua Pazza' in the nearby bay of Erchie. Closed Monday and Tuesday.
+ 39 089 261 606
Le Sirenuse Newsletter
Stay up to date
Sign up to our newsletter for regular updates on Amalfi Coast stories, events, recipes and glorious sunsets