Known informally as 'The End', Montauk is where those without a gift for walking on water are forced to stop when heading east along the most populated island in the United States – Long Island.  Predictably, however, the majority of those people cluster within an easy commute of Manhattan. By the time you get to Montauk, you're in another, rangier space and time, one made up of lighthouses and driftwood, clam bars, surfboards and long walks along deserted beaches.
Fisherfolk and beachcombers, artists, writers and creatives of every kind have long been drawn by the sea-girt promontory's 'last resort' charms. Andy Warhol, Peter Beard, Ralph Lauren, Lee Radziwill, Edward Albee, Julian Schnabel – all have been residents or regular visitors. Mick and Bianca Jagger came to stay in Warhol's Montauk mansion in 1972 after the Stones' sell-out US tour; the following summer, they and Warhol were on holiday together in Positano. Elective affinities?
Montauk and Positano came together once more in the summer of 2022. This time, it was the friendship and mutual admiration of two fashion entrepreneurs, Carla Sersale and Rachelle Hruska MacPherson, that forged the link.
Rachelle and her husband, hotelier Sean MacPherson, met Carla, the founder of resortwear and lifestyle brand Emporio Sirenuse, in the summer of 2011, while honeymooning at Le Sirenuse – the family hotel of Carla's husband Antonio. For Rachelle, Carla is "a woman of endless talents, who does everything with thoughtfulness and attention to detail". Carla, for her part, singles out, alongside the "wonderful friendship" that binds them, Rachelle's "commitment to changing the world for the better".
Then as now, Rachelle was working as the founder and editor of digital media company Guest of a Guest, an ever-expanding online social diary and event photography service that, to quote its website, "celebrates and serves society's influencers" by making them pro-active partners in their own media coverage.
But in 2016, she launched another venture – a New York based fashion label called Lingua Franca. The big idea behind Lingua Franca was very simple but at the same time utterly original: take that classic 'safe' garment, the cashmere sweater, and make it culturally relevant by embroidering words on it.  Sometimes these words are inspirational, but just as often they are angry about injustice – as in the message "poverty is sexist", which famously appeared on a Lingua Franca sweater the actress Connie Britton wore to the 2017 Golden Globes ceremony.
The first fruits of the collaboration between Carla and Rachelle take the form of an exclusive capsule collection of seven hand-embroidered cashmere articles created by Lingua Franca, and seven caftan and dress styles by Emporio Sirenuse. Presented on 14 July at a dinner for 35 guests on the lawn of The Crow's Nest, the historic – but newly hip – Montauk inn owned by Rachelle's husband Sean, the collection might be seen as a transatlantic call and response, a mutual fashion homage.
There's nothing apparently 'political' about Carla's pieces, which exude Emporio Sirenuse's mix of easy dolce vita grace and Mediterranean eclecticism. But each one is made from leftover printed or woven cotton from her past three collections – a subtle nod at the issue of waste that continues to plague the fashion industry. Lingua Franca's contribution to the capsule includes a silk cashmere sweater and crewneck, co-designed by Hruska and Sersale, featuring the celebrated John Steinbeck quote, "Positano bites deep," in LF's classic script embroidery style. Another cashmere sweater line in the collection features Le Sirenuse's iconic double-mermaid logo, while a third bears the mysterious phrase "where is my head" – the name Emporio Sirenuse gave to one of its textile prints that paid homage to the great Parisian couturier Paul Poiret.
Following the presentation, the Sirenuse Journal sat down with Rachelle to get her take on Lingua Franca, Positano and a few other questions we couldn't wait to ask her.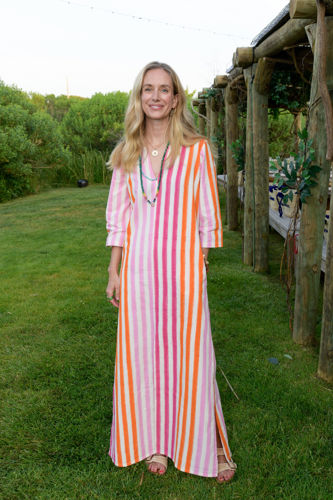 SJ: Why the name 'Lingua Franca'?
Rachelle: Lingua franca literally means 'a common language'. We began the brand by hand-stitching words on cashmere sweaters. Starting meaningful conversations has always been in our DNA. 
SJ: Is Lingua Franca a fashion brand? Or something else entirely?
Rachelle: Interestingly, I never set out to build a – quote unquote – "fashion brand." I came out of blogging and was and still am more interested in the storytelling that Lingua Franca affords me. I think 80% of our offerings are indeed clothing items, and in that way I suppose we are very much in the world of fashion. But, I also think that at the heart of our company is a group of individuals who care less about selling clothes and more about telling stories, spreading joy, being activists and honoring mother nature. 
SJ: I know it must be like asking a parent 'which of your kids do you like best?', but if you had to choose just three of the 'messages' embroidered on your sweaters that you're particularly proud of having launched over the years, which three would they be? 
Rachelle: The very first sweater I ever stitched said "booyah" - which wasn't planned out at all! The "i miss barack" sweater was the first one that really set things into overdrive. And the "outlaw" sweater was based on my mother in law and muse, Janet MacPherson, and it's still the one I keep coming back to. 
SJ: Can you talk a little bit about the collaboration with Carla and why Lingua Franca and Emporio Sirenuse are a good match?
Rachelle: I have always respected the care for detail and quality craftsmanship of Carla's pieces, something that we strive for at Lingua Franca. I also love the similarities of our summer wonderlands - hers in Positano and mine in Montauk. Both of us understand what it means to have labors of love!
SJ: What's your idea of the perfect vacation?
Rachelle: Somewhere on the Mediterranean Sea, with my family and no devices. 
SJ: Finally, as a female entrepreneur, what advice would you have for young women starting out in business and maybe thinking of starting their own brand?
Rachelle Find people you respect who are doing things you find interesting and ask questions. But, don't forget to listen to your gut and be okay with charting your own path. Never compare yourself to others – the best businesses are the ones that are completely unique, with passionate and dedicated founders.
Shop the Emporio Sirenuse x Lingua Franca capsule collection online at Emporio Sirenuse (where the exisiting Emporio capsule items will be joined by selected Lingua Franca pieces in September) and Lingua Franca – or in-store at Emporio Sirenuse in Positano and The Crow's Nest in Montauk.
Le Sirenuse Newsletter
Stay up to date
Sign up to our newsletter for regular updates on Amalfi Coast stories, events, recipes and glorious sunsets