Defying the downturn, the company grew steadily, year on year, featuring in leading fashion magazines, and becoming a fixture in highly curated stores such as Colette, Barneys, Selfridges… and Emporio Sirenuse.
Emporio Sirenuse's founder, Carla Sersale, has long been a fan of the brand, and has stocked a selection of their models in her Positano stores for the last several seasons: "I admire their simplicity", she says, "as well as the timeless elegance and the quality of their designs". While working on Le Sirenuse Positano's Spring Summer 2020 offerings, she realized that the inspirations behind the latest collection offered the perfect opportunity for a long-desired collaboration with the Greek footwear house, and she was thrilled when Nikolas and Christina enthusiastically embraced her idea. Like Ancient Greek Sandals, the Spring Summer collection channels the counter-culture spirit of 1960s bohemians like Australian dancer and Positano resident Vali Myers. It celebrates the freewheeling euphoria of moonlight beach parties, psychedelic album covers and new forms of spirituality.
The result is a capsule consisting of eight exclusive styles linked to two of the story motifs in the Le Sirenuse Positano Spring Summer 2020 collection – Que Onda! (What a Wave!) and Lurex. Made of soft Italian vachetta leather, the sandals reinterpret some of Ancient Greek Sandals' most iconic styles in the carefree spirit of the collection's caftans, dresses and easy separates. Ancient Greek Sandal's designer Christina Martini says that she "found great inspiration in the history of the hotel, as well as the dreamy surroundings". The three sandals in the Lurex group, Lysi, Desmos and Alcyone, are perfect for evening wear with their metallic lurex thread embroidery, while the five Que Onda! styles nod at the prints of the same name designed by Carla's talented niece Viola Parrocchetti – for example in their delightful, Byzantine lozenge-pattern straps.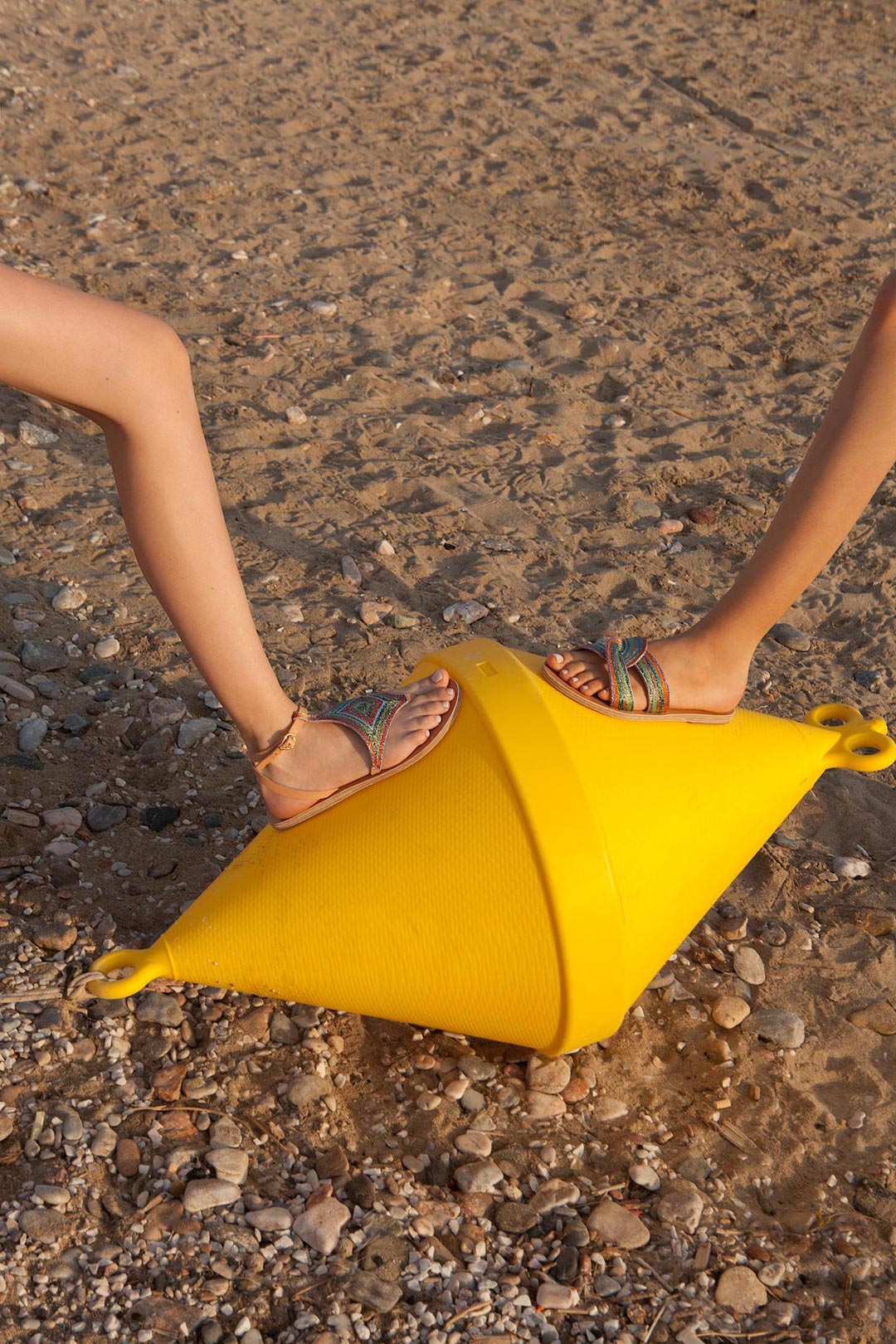 For the hippies and bohemians who gravitated towards the islands of Greece as towards a Dionysiac paradise, the leather sandals that they could pick up cheaply from cobblers and street vendors in resort towns were symbols of freedom, of an unencumbered lifestyle light years from the heavy closed shoes and boots of the Western establishment they rejected. Few of these young dreamers, however, realized that they were also delving into Greek culture by wearing these open shoes.  For Homer the talaria or winged sandals sported by Hermes, the messenger of the gods, were ἀμβρόσια χρύσεια, 'golden and immortal', while Athenian tragic actors wore the high, cross-strapped platform sandals or buskins known as kothornos as a kind of an artistic trademark – which had the added advantage of making them look taller and more imposing. Ancient Greek Sandals dives deep in search of all this history and brings it to the surface with style, wit and panache.
The Ancient Greek Sandals capsule launches with the Le Sirenuse Positano Spring Summer 2020 collection on April 24th.
Le Sirenuse Newsletter
Stay up to date
Sign up to our newsletter for regular updates on Amalfi Coast stories, events, recipes and glorious sunsets