Multidisciplinary French artist and designer Louis Barthélemy found himself in Cairo in March 2021 when the escalating global pandemic made cross-border travel impossible. Keen to escape the city for a while, he remembered a brief visit he had made on a previous Egypt visit to a remote Saharan oasis called Siwa, deep in the Western Desert, a unique enclave of Berber language and culture. He was keen to go back, perhaps for a couple of weeks this time. He ended up staying five months.
Barthélemy had studied fashion design at Central Saint Martin's in London and went on to work with Christian Dior under John Galliano. He also designed textiles for Gucci and Ferragamo. It's the kind of career path that many aspiring young fashion designers dream of, but Louis was restless. He didn't feel that the fashion industry's top-down, controlling approach was right for him – so he began to roam the world, in particular North and West Africa, in search of a creative path. He found it in the Souk El-Khamiya, or 'Street of the Tentmakers', where one old artisan in particular was keeping alive the ancient art of khayameya – appliqué tapestries that were originally used to line the desert tents of important warriors and rulers.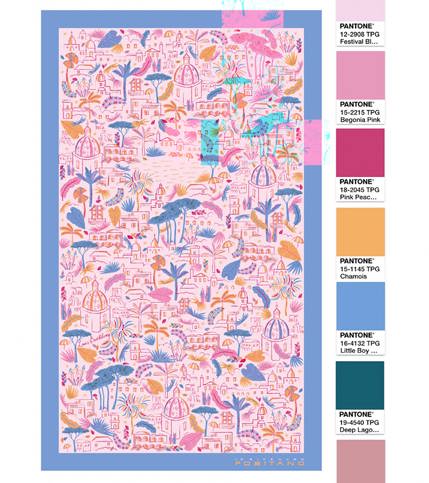 Befriending the craftsman, Barthélemy began to work with him, creating his own khayameyas that paid homage to Egyptian culture and motifs – pharaoahs, gazelles, palm trees, wicker boats – while infusing them with his own playful design sensibility. But it wasn't just the medium that enthused the young French artist. It was the collaborative process.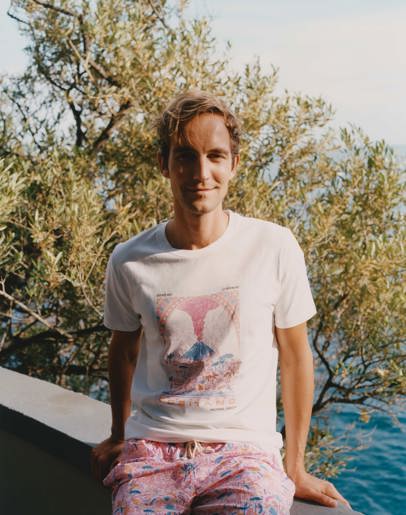 Soon after arriving in Siwa, Barthélemy discovered a local sculptor who worked in limestone and hardened salt extracted from the many salt lakes surrounding the oasis. They came together to create a series of furnishings, objets d'art, candleholders and beads. But Barthélemy also discovered that salt made a beautiful glaze for ceramics – and this let to him designing a range of strikingly simple white pottery for a female craft collective inspired by ancient Egyptian everyday household vessels. "I just had a lot of time and space around me in Siwa", Barthélemy recalls, "and people that were truly available and welcoming, willing to be creative companions".
He also worked with a palm-leaf basketry weaver and delved into the town's tradition of intricate wedding trousseau embroidery: girls will begin to embroider their wedding tunics at a young age, when marriage is still a distant dream.  "I wanted to drift away from the traditional aspect of it", Barthélemy explains, "but keep the technique, translating it through my drawing and my illustration. And the mix was fun because the women got to work on patterns and things they had never done before – faces, birds and things like that, hieroglyphics, elements which surround them but they never represent in their attire".
All the while, the French artist and designer was mulling over a project he had been asked to develop for Carla Sersale, founder and creative director of Emporio Sirenuse. "She called me out of the blue in January 2020", Barthélemy recalls, "telling me she really admired my work and would love to collaborate on a capsule collection. I was enchanted".  And it was in Siwa, in a Berber oasis surrounded by the endless sands of the Western Desert, that he began to jot down some ideas for the collection – beginning with a postcard that viewed the Amalfi Coast through the filter of the artist's Egyptian experience.
In the background, pink smoke and lava billows from a blue volcano. Below is a town a little like Positano. But instead of clinging to a steep rocky coastline, it has been transported to the desert. The mother church of Santa Maria Assunta is easily recognizable in the centre, but the religious edifices at the foot of the volcano look more like mosques. Saharan palm trees alternate with Amalfi Coast umbrella pines. At the base of the jaunty scene, a repeated wave pattern, or Vitruvian scroll, nods at Greek and Roman culture – the bridge between Egypt and the later Christian West. Barthélemy says that when he drew the postcard, he was already thinking of it as a khayameya tapestry, and that it was the first time he had adapted the technique "to something 'foreign' to Egypt, which was Italy and the spirit of the Amalfi Coast". He was keen, he relates, to celebrate a character trait that unites the bay of Naples with Egypt, Lebanon and other parts of the southern and eastern Mediterranean, which he defines as "resilience in the face of danger".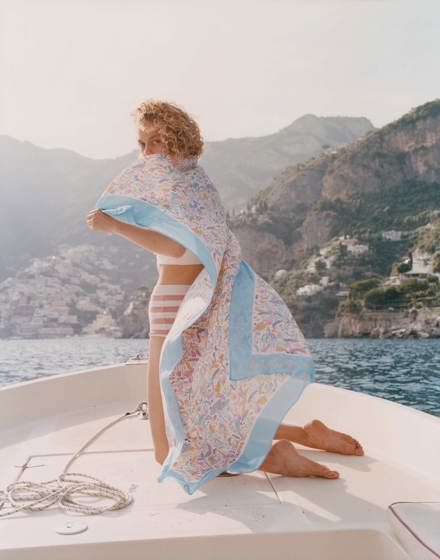 The postcard became the basis for a pattern created in two colourways, one a melange of dusty pink, saffron yellow and matt baby blue on a white ground, the other a play of deep inky blues and dark greys on a light blue background. Each colourway is available as a pareo or a long caftan. Two men's swimming trunk models work subtly different variations on the blue and pink themes, while a third takes that billowing smoke and lava and transforms it into a deep 'Yves Klein' blue. The capsule collection is rounded off by two t-shirts, an ashtray and a limited-edition linen blazer, available in two colours, which was hand embroidered by Cairo tentmakers with large appliqué banana leaves – another motif that unites Egypt with the Amalfi Coast (for decades, banana plants have been part of Le Sirenuse's verdant indoor and outdoor planting scheme).
At the end of May, Paris-based model and writer Gemma Janes came to Positano with Barthélemy for a capsule campaign photoshoot with David Luraschi, styled by Lolita Jacobs. The story recounted in the shoot was based on a text written by Janes that takes its title, Posa Posa, from the miraculous icon of the Virgin Mary in the town's mother church.
"In Positano", Janes' narrative begins, "the water is light blue, clear as the eyes of our host. In the evening it fades to pink and soon a full moon climbs up the edges of the sky and paints a long line of white light into the almost black water. We want to climb up onto it as the musicians pluck strings that whisper into our ears over dinner. All the languages at our table melt together and tie us to the morning. Sleep full and deep until the birds wake us".
Later, when it turns cold and it's time to fly south, some of those birds may wake sleepers in an Egyptian oasis, whose simple houses, cool inside, are not so different from the traditional 'cube' dwellings of the Amalfi Coast. Thus do Mediterranean cultures cross-fertilize, across the centuries, across the sea.
The Louis Barthélemy x Le Sirenuse capsule collection is available now at Emporio Sirenuse.
Photos © David Luraschi
Le Sirenuse Newsletter
Stay up to date
Sign up to our newsletter for regular updates on Amalfi Coast stories, events, recipes and glorious sunsets