Picture Post was, in its modest way, the British equivalent of the much more famous US weekly magazine Life, mixing serious reportage with social commentary, travelogue, sports, science, fashion and arts coverage. Photo-led, it employed some of the best photographers then working in Britain and Europe. One was Bert Hardy, a self-taught Londoner who had left school at 14 but went on to become a fixture at Picture Post between 1941 and 1957, first making a mark with his coverage of the London Blitz.
Picture Post had published a few photos of Positano in one of its May 1949 issues (could it have been the 14 May edition, whose cover enticed readers with a shot of Ingrid Bergman and Roberto Rossellini on the island of Stromboli, and the promise of a photo essay on 'PRINCE CHARLES: HIS FIRST SIX MONTHS'?). We haven't been able to track down that earlier Positano article, but what happened next is made clear in the introduction to the four-page September feature, which was shot by Hardy with words by Picture Post staff writer Derek Monsey.
"In May, we published pictures of Positano. An 18-year-old drama student saw them and wrote to Positano's mayor. The Mayor invited her over as an official guest. She accepted. And we went too".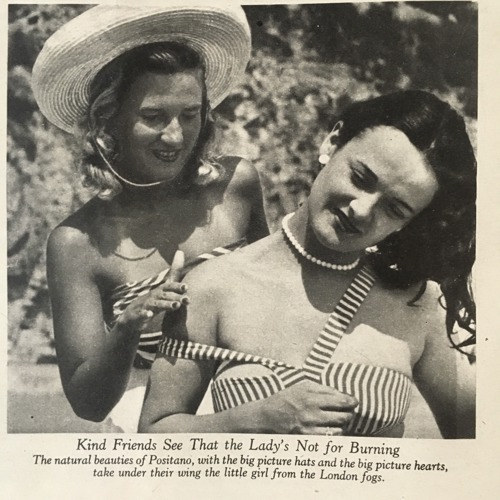 The drama student was Mercy Haystead, who was then studying acting at the Royal Academy of Dramatic Art in London. She clearly had a talent for self-promotion, though she wasn't the only one to benefit from the feature, which was a three-way win-win arrangement. Picture Post got itself a light-hearted, sunny spread set in southern Italy featuring a pretty young starlet, one that would play well in a grey Britain still recovering from the war, where rationing was still in force. And Positano got itself a useful publicity boost (according to the article, Paolo Sersale planned to use Mercy's visit to promote the charms of Positano in the winter season).
Sersale himself was only just about to turn 30 – but he had already been serving as mayor of Positano for six years. He was never short of ideas for promoting the little Amalfi Coast town that had become his Neapolitan family's wartime refuge and principal place of residence. His first and arguably most important coup had been to befriend US general Mark Clark in 1944 and persuade him to designate Positano as a rest resort for Allied officers. After the war, many returned with their families (it is perhaps no coincidence that Mercy Haystead was the daughter of a British army officer). Two years after her visit, Paolo Sersale would persuade his siblings to turn their Positano villa into a small hotel. They called it Le Sirenuse.
The article Derek Monsey penned to accompany Bert Hardy's shots adopts an arch, jokey tone, but it's still full of precious details that will evoke memories even today among older positanesi . "The day after she arrived", Monsey wrote, "the Mayor gave a party for her to meet some of the people amongst whom she would spend her time. There was the little Marchesa di Ruggiero, whom everyone knows as Aunt Angelina, at well over 70 one of the most active people in this idle town. There was La Pinuccia, from Milan, who makes hats that sell at unmentionable prices and whose personality ranges over the Moorish domed roofs like the tempestuous scirocco".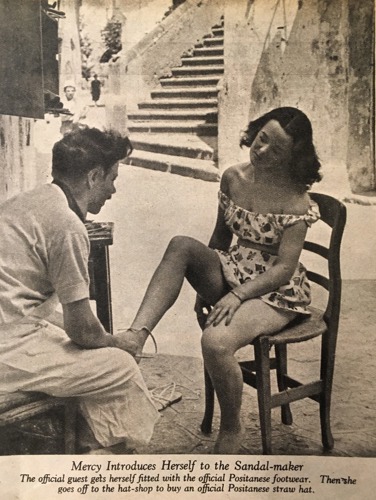 The scene of Mercy's presentation to the town council is priceless: "The Mayor arranged for Mercy to meet the giunta, the executive committee of the council, the same morning. She found them at a couple of tables on the verandah of the Town Hall; a fisherman, a doctor, the owner of one of the tiny hotels, a farmer and a 'landlord'. They were sitting in the shade, rather sadly discussing the water shortage, and very purposefully the approaching Festa of the Madonna. Mercy, by this time, was getting used to having her hand kissed – but she wasn't yet prepared for the Mayor to clamber up the trellis in the middle of what was, after all, an official ceremony, to pick her a bunch of grapes".
If Mercy's aim was to jumpstart her career, it worked. She landed her first film role less than a year later, in a lightweight British country house farce called What the Butler Saw in which she played, in the words of one reviewer, "a South Sea island beauty who has a habit of removing her clothes at the worst possible moment. We have the British censor to thank for the fact that we end up seeing a good deal less than the butler". Her best-known role was in The Admirable Crichton, a 1957 comedy based on J.M. Barrie's 1902 stage play.
The acting roles petered out in the early 1960s, but soon thereafter, Mercy would embark on the third chapter of her life, marrying racehorse owner and publisher Tony Samuel – the grandson of the founder of Shell oil company – and becoming lady of the manor at his Scottish country house, Arndilly. They were happily married for 35 years until Samuel's death in 2001. Mercy survived him, passing away in 2015 at the ripe old age of 84.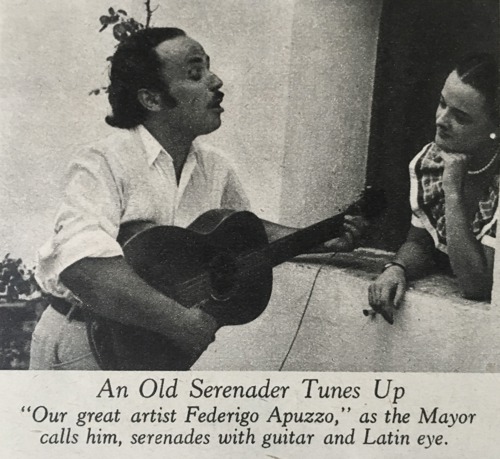 Search for 'Mercy Haystead' online today, however, and one of the first images that comes up is Bert Hardy's iconic 'spaghetti-eating' shot, taken in Positano, on the terrace of the Buca di Bacco restaurant, when she was a hopeful young drama student of 18. It was chosen as the cover of that 24 September 1949 edition of Picture Post, and in more recent times has begun to enjoy an online afterlife as a defining image of the southern Italian talent for making the most of the good things in life. All thanks to a young British actress "from the fogs of London" who was in Italy for the very first time.
Le Sirenuse Newsletter
Stay up to date
Sign up to our newsletter for regular updates on Amalfi Coast stories, events, recipes and glorious sunsets