One almost certainly apocryphal story has it that this cake, which is gluten-free, was the accidental creation of a Capri pastry chef in the 1950s who was forced to improvise when he ran out of flour, or who mistook cocoa powder for flour – there are several different versions of the tale.
Whatever its origins, the Torta soon entered the repertoire of hotels and restaurants on Capri and the Amalfi Coast, becoming as much a part of the local culinary landscape as seafood spaghetti or limoncello. It caught on because it's unbelievably more-ish, but also because it's a guilty pleasure you don't need to feel too guilty about: calorific but by no means heavy, flour-free and full of nutty flavour.
It's also surprisingly easy to make. The recipe below offers the classic, no-frills version. One key point is to chop or grind the almonds so that they're still crunchy – more or less the consistency of very coarse sand or very fine gravel. And it's best to use almonds with skin on, not the blanched variety, as the former have more flavour.
Torta caprese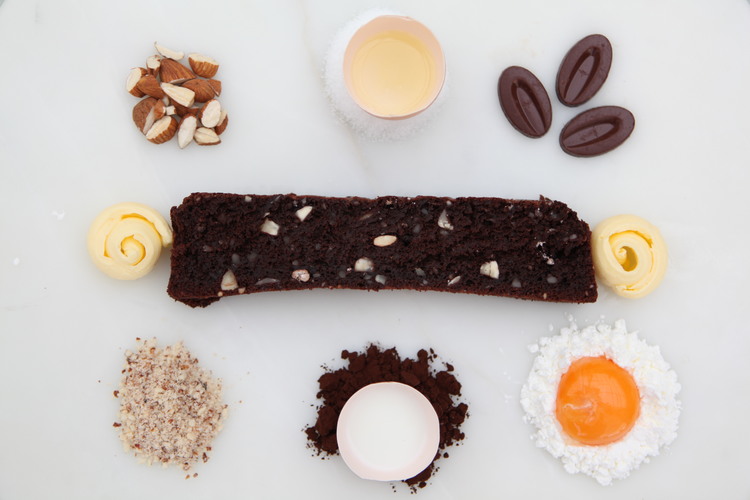 Serves eight or more
250g/9oz coarsely-ground almond flour
250g/9oz sugar
250g/9oz butter
250g/9oz dark chocolate (at least 65% cocoa)
6 whole eggs
Half of a vanilla pod
25ml/0.85fl.oz. Amaretto di Saronno almond liqueur
Begin by warming the butter to room temperature and creaming it. Then chop the chocolate up roughly, melt it in a bain-marie, and leave it to cool down a little. Turn on the oven, and set it to 180°C.
Separate the egg yolks and whites, put the yolks in a mixing bowl with half the sugar, and begin to whip, either by hand or with the whisker attachment of a food blender. When the mixture is creamy add the butter and then the melted chocolate. Mix well.
Fold in the coarsely-ground almonds. Whip the egg whites until they form snowy white peaks, and fold this in to the mixture with the remaining sugar, the scraped-out seeds from the vanilla pod and the splash of Amaretto di Saronno.
Pour the mixture into a 24cm greased cake ring, or else a round cake pan lined with buttered baking paper. Bake for 45 to 50 minutes; the cake should have a golden-brown crust on top but still be moist inside. Leave to cool down completely before removing from the cake pan and dusting the top with icing sugar.
Le Sirenuse Newsletter
Stay up to date
Sign up to our newsletter for regular updates on Amalfi Coast stories, events, recipes and glorious sunsets